Student Groups Organize Black History Month Seminars
On February 19th, Upper St. Clair's Black Student Union partnered with the No Place for Hate club and Students for Intercultural Awareness (SIA) to host a seminar in honor of Black History Month. The seminar included presentations from two speakers: Leatrice Thomas, the first female African American graduate of Upper St. Clair, and Corporal Aaron J. Allen, a liaison officer for the Heritage Affairs Office of the Pennsylvania State Police. The event not only included a live audience, which consisted of students as well as staff members, but also a virtual audience, as the seminar was later broadcasted to the entire student body. Those who were able to attend the event in person also engaged in several discussions following each presentation, and students and staff alike had the opportunity to pose questions to the two speakers. Students completed a reflection following the seminar as well, in which they were asked several questions relating to the speakers, implicit and explicit bias, and their own personal experiences. 
The first speaker, Leatrice Thomas, grew up in Upper St. Clair and attended kindergarten through 12th grade in the district. During her time in high school, Thomas participated in the Pantheon Choir, the Thespian Society, several Upper St. Clair musicals and talent shows, and Track and Field, ultimately graduating in 1973. Thomas recounted her experience in Upper St. Clair as overwhelmingly positive, stating that "going to school here was a wonderful blessing." She, of course, faced struggles during high school, but was able to derive important lessons from those experiences and impart the wisdom she gained from them upon her avid listeners. One of said messages included her recounting of a time in which she was racing a friend in elementary school, and said friend told Thomas that she could not outrun her because she "could run faster than her Irish setters." Thomas then went on to explain how she would not have outrun her friend if she had believed that she could not do so; she reaffirmed the message "be careful of what people try to instill in you. If you have a goal for yourself, and you really feel in your heart that you can do that, keep pursuing that dream." Thomas shared several other words of wisdom, and teachers and students alike shared the sentiment that they were extremely glad that Thomas's experience at Upper St. Clair was primarily positive, and that any racism that she did encounter, while still inexcusable, was a rare occurrence. 
After an engaging and thoughtful discussion that followed Thomas's speech, Corporal Aaron J. Allen began his presentation. Corporal Allen, who graduated from the Pennsylvania State Police Academy in 2015 and worked in a patrol unit for approximately five years, became a full-time liaison officer for the Heritage Affairs Office around the time of the killing of George Floyd. At this time, three other officers were also designated as full-time liaison officers for the Heritage Affairs Office, a special division of the Pennsylvania State Police that works, in the words of Corporal Allen himself, to "bridge the gap between law enforcement and the community." The liaison officers specifically work with local, state, and federal agencies and investigate, oversee, and respond to hate crimes, bias-related incidents, and incidents that relate to racial tension throughout the commonwealth of Pennsylvania. In addition to responding to and investigating hate crimes, the officers of the Heritage Affairs Office also provide free training regarding unconscious bias, stereotyping, racial profiling, and history of policing to Pennsylvania State troopers and cadets as well as outside agencies that desire such training. In the past year, the Heritage Affairs Office has provided trainings to over one thousand outside agency police officers.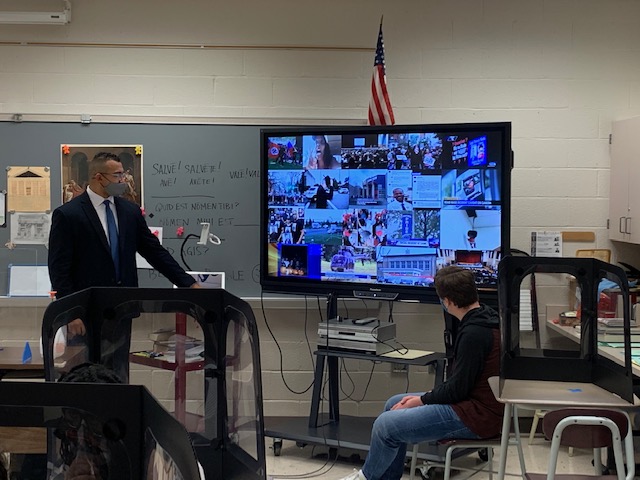 Corporal Allen, who worked extensively in cases such as the Tree of Life synagogue shooting, the east Pittsburgh shooting with Antwon Rose Junior, and several others, emphasized that more and more police departments have shown an interest in his office's trainings, and are "trying to be proactive in teaching their current police officers about these topics." Allen specifically remarked upon the fact that one of the components of their training, history of policing, is frequently an unfamiliar topic: "A lot of people don't understand that some of our first law enforcement officers were hired to be slave catchers. We need to understand where we were to get to where we want to be." Allen went on to discuss his own experience with the police, referencing the incarceration of his father and the bias that he harnessed towards the police as a result of that experience. He reaffirmed his understanding of why this type of bias was so prevalent in communities or families with high incarceration rates, and emphasized that if it had not been for positive relationships that he ultimately fostered with law enforcement officers in his community, he would not have been in the position that he is today. Allen stated, "I could have been a statistic. Juveniles with incarcerated parents are 95% likely to take that same route." Allen's experiences truly drove home his message, emphasizing that positive engagement with the community on behalf of law enforcement is a significant component of healing the tensions that have arisen between the two parties. 
Responses to the Black History Month seminar have been overwhelmingly positive. Daniela Buccilli, a teacher representative and event coordinator for the Black Student Union, stated that she thought that "both of the speakers capped the Black History Month activities well, and that they were very relevant to the students." Leatrice Thomas and Corporal Allen provided unique and enlightening perspectives on a variety of issues, and with the truly impactful result of the coordination of the Black Student Union, No Place for Hate, and Students for Intercultural Awareness, Upper St. Clair High School can only wait for the exciting possibility of similar connections in the future.