Volleyball Tournament For the Kids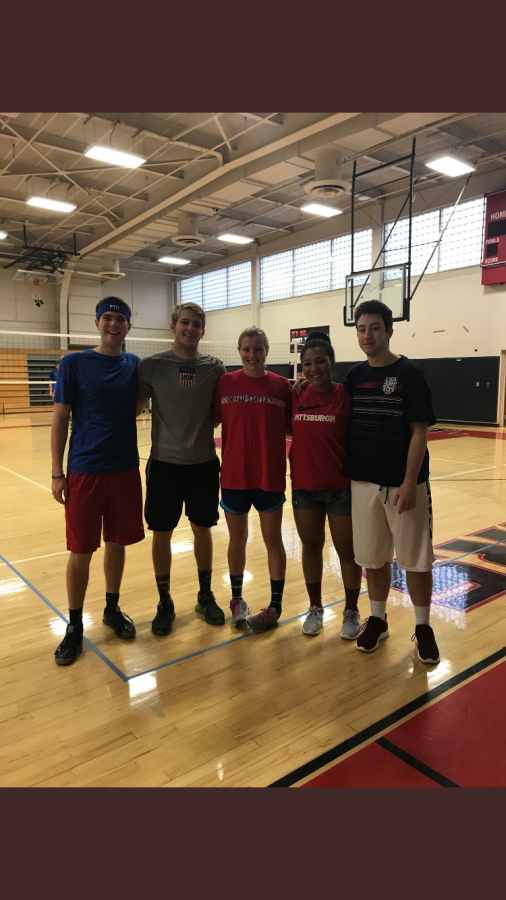 Brady Warmbein, Staff Writer
March 20, 2018
Thanksgiving weekend is usually a time for reflection on what everyone is thankful for. The day before Thanksgiving, mini-THON had something to be extra thankful for; a fantastic, well-run, and high profiting volleyball tournament. November 22nd, 2017 marked the second volleyball tournament for mini-THON, a student-driven fundraising organization at the high school. The proceeds raised go to Four Diamonds, a non-profit which raises money for children with cancer. Upper St. Clair's mini-THON hopes to reach their goal of raising $30,000 for the organization. The grand total will be revealed following the mini-THON event.
mini-THON is comprised of four main committees: Event Planning, Fundraising, Public Relations, and Community Time. For the volleyball tournament, the Event Planning Committee played a critical role in the execution. After school meetings were held to determine the format of the tournament, how many teams could be involved, and much more.
One of the key people running the tournament was Andrea Mays, an Executive Board member who is the head of Event Planning. She oversaw sign-ups for the tournament and was shocked at the final numbers. She explains, "We had 52 teams sign up with over 300 participants and we raised over $3,300."
With no limit as to how many participants could sign up, Andrea was thrilled to have raised this significant amount. This year's total is one and a half times more than last year's total!
Another key person was Aya Dakroub, one of the chairman for Andrea's Event Planning Committee. Aya had a variety of jobs the day of the tournament, but according to her, she "announced teams and made sure everything went according to plan." Aya was also behind the early stages of planning, the creation of the bracket for the tournament, and running the mini-THON merchandise stand.
Mr. Russell Hoburg, a science teacher at Upper St. Clair High School, helped coordinate and even participated in the fundraiser with some other colleagues. Mr. Hoburg is well-known by his peers and students to be a great volleyball player, but he said showing off was not his intention for playing. He states, "The big goal today was to make a lot of money for mini-THON […] We definitely wanted to win, we won last year, […] but more importantly, it's the having fun aspect and raising money for the kids."
To conclude, the mini-THON team was assured through this tournament that their goal of raising $30,000 is definitely not unrealistic.
mini-THON's next fundraiser will be a Snow Person Contest starting Wednesday, December 13th. [email protected] and mini-THON joined forces to create 30 Snow People with teachers' faces on them. Students and teachers will be able to purchase tickets to vote for their favorite snow person/teacher. Whomever receives the most tickets will wear an inflatable snowperson outfit for the entire day on Friday, December 22nd and will also have a feature in mini-THON's Lip Dub. The Lip Dub is a school-wide Lip Sync video which mini-THON hopes will be one of their main forms of advertisement.