We Are Family: Upper St. Clair Boys Varsity Basketball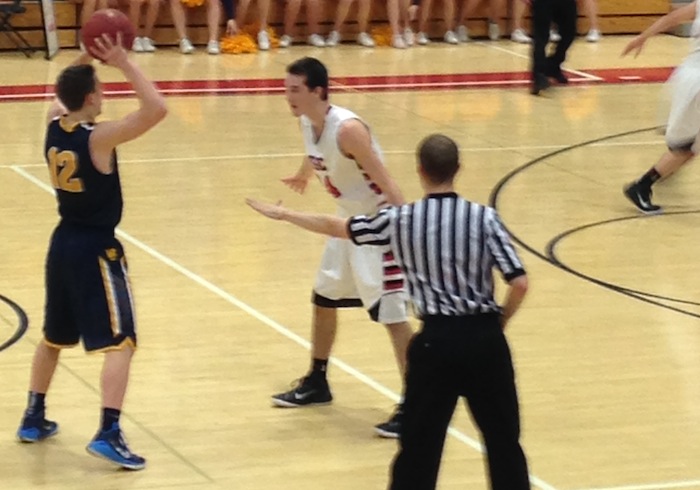 Jessica Sourbeer, Staff Writer
March 11, 2015
The boys basketball team here at Saint Clair finished the season off on Tuesday, February 24, with a record of 17 wins and 8 losses. The final games were played on Monday and Tuesday in the last week of February.
The opponents of the panthers were Chartiers Valley on Monday, for round two of WPIAL playoffs, (65-50) and Mt. Lebanon on Wednesday, for a seat at state championships (48-32), both of which they lost. The panthers fought long and hard for a chance to compete at the next level, but it didn't pan out.
Although the team had many let-downs toward the end of the season, they flourished in the regular season and have high hopes for next year. At the beginning of the season they grappled with their ability to contend in the section. As the season went on, they began to realize their full potential.
First team, all-section player, Andrew Wheeler said, "As the season continued to progress, the team began to bond and that translated into the on-court performance."
Another contributing factor to the family make-up of the team was a booster-funded trip to the Bahamas for a three game tournament, also known as "an unnecessary vacation" to other student athletes.
The crew, however, bonded over the excursion, which junior varsity member Doug Wagner said "enhanced the on-court chemistry and team compatibility."
A specific turning point in the season was winning at Chartiers Valley. Assistant coach Keith Froelich said, "When they won that game, a confidence was instilled in the team. They now thought that they could beat anyone."
The game was away and against a strong team, eventually the section title winner; the Panthers were not favored to win. The difference between this game and all the other St. Clair games in the season was that the Panthers played to win this time. They took all the chances offered to them and worked hard as a team.
Some may say that the confidence found in this game led to the Panthers' downfall in playoffs, but others thought it benefitted the team more than it harmed them. The boys were able to play with complete chemistry and that added a new aspect of play and teamwork to their games following the Char Valley game.
Next year, Andrew hopes to "have a winning season, work hard, play hard, and have a lot of fun."
Even after discouraging losses, the team can pick itself back up and plan for an even better season next year.