Students Donate Blood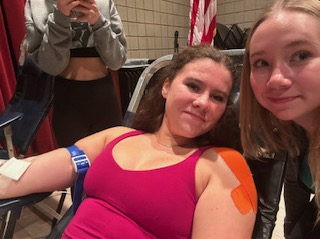 Every two seconds a person in the US is in need of a blood transfusion and approximately 29,000 units of red blood cells are needed every day in the US. Blood transfusions save lives every day; without the blood donated every day, many lives would be lost. Donating blood is an easy enough process that most high schools will host a blood drive for students to donate their blood during the day. Upper St. Clair High School is no exception, hosting its annual blood drive on Friday, November 4th.
The USC High School blood drive has been going on for 30-plus years and has no intention of ending anytime soon. Vitalant, a blood donation company, sponsors the drive every year bringing in the equipment and staff needed to draw blood from the volunteers. Through Vitalant the blood drawn can be given to people all over the region wherever it is needed most. One Vitalant volunteer explains how "Donating blood is one of the easiest ways to save someone's life. All it takes is a little bravery."
The process of getting blood drawn is simple; after you fill out all the necessary forms and they test your blood for the right amount of iron, 12.5 or above, you are good to go. They then proceed to take you to a station where a certified staff member will get you prepped for the needle and make sure you are ok. Once the needle is in, it is nothing but a waiting game till the pint of blood is drained from your body. When finally the process is over you will be escorted to sit down for 15 minutes and treated to a variety of snacks to help regain your strength.
"I'm honestly pretty nervous, I've never gotten blood drawn before so I'm not sure what to expect. Hopefully, it all goes well," said senior Claire Loomis right before getting to her station. After getting her all set up the process of draining her blood only took a total of ten minutes. She then got to sit down for 15 minutes and enjoy chips and cookies before getting to leave school. Before leaving Claire explained, "It was honestly not bad at all. I think my nerves got to me in the beginning but the process was quick and I would one hundred percent do it again."
The annual Upper St. Clair blood drive is a huge event for the students who partake in it with the rising number of students that are willing to donate; the drive will continue for years to come. "We have no intention of ending this donation day and hope to see even more students donate their blood next year," said Dr. Torquato, the head teacher volunteer.