The Power of Paint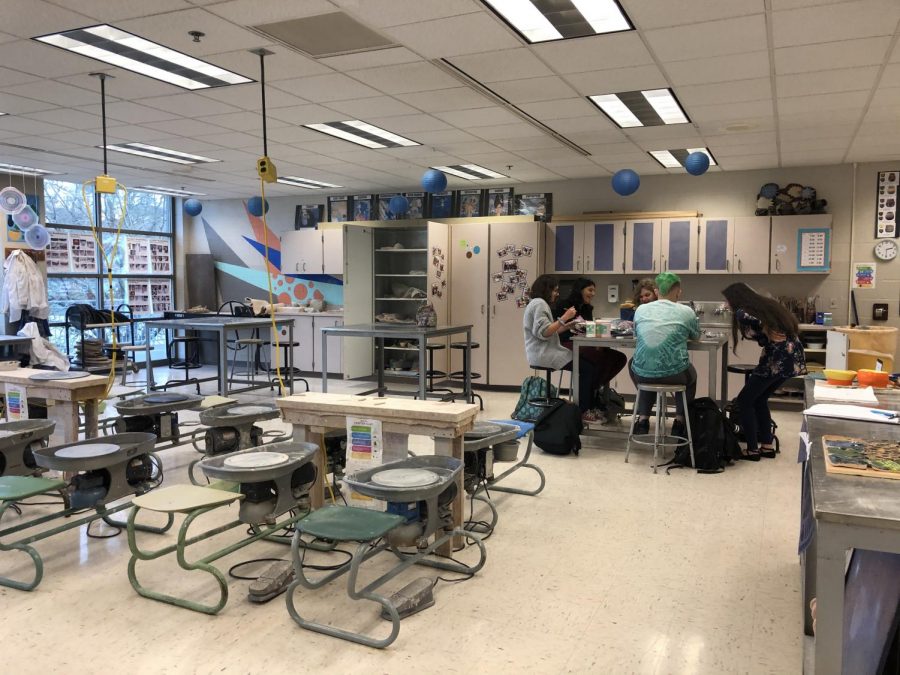 Andrew Drecnik, Staff Writer
February 12, 2020
Every Tuesday after school the Art Club meets in the ceramics room. It's a place where students can feel free to express their creative desires and socialize with their peers.
While not a requirement at Upper St Clair High School, art is one of the most popular electives for students to take any year. It covers a wide variety of subfields such as ceramics, digital arts, and painting. Art club is like all of these categories rolled into one.
Instead of having the stress of worrying about projects, Art Club allows students to work at their own pace and do whatever they want.
Some students spend time making sculptures while others are there just to draw. All ideas are welcome and allowed to be expressed through various means.
Ms. Valentine is the sponsor of the Art Club, when asked about her role as sponsor she said this, "I get them started with projects, help them work through some of their ideas, and then make those ideas happen."
Sometimes the do group projects together where they all work on something. They recently finished their license project. For this project they all designed and created their license plate, and for the final result they sculpted it with clay and hardened it in the kiln so it became the real deal.
The club is not currently doing a new group project since some of them are still working on license plates or other personal projects, but they will start another one soon.
Just about all of the students involved with the club commented on how they liked to freedom that came with being a part of the club. They liked being able to bring any idea that they had to life.
Jonathan, a member of the Art Club, described it as, "You get to do stuff that you can't do normally or at your house."
Jonathan was working on a new clay sculpture and was in the process of painting it, however he wasn't quite sure what it was. Sometimes creations at Art Club aren't anything, they're just simply art.
Riley, a freshman at Upper St Clair High School, described the reasons why she liked Art Club, "It's fun and you can do whatever you want."
While most students see Art Club as just a place for someone to make stuff, there's so much more meaning to it to the students apart of the club.
To them it's a place for creativity to thrive, a place where they can feel free to do whatever they want with art, and most importantly a place that's free of the stress that comes with taking an art class.