Band Tours for Spirit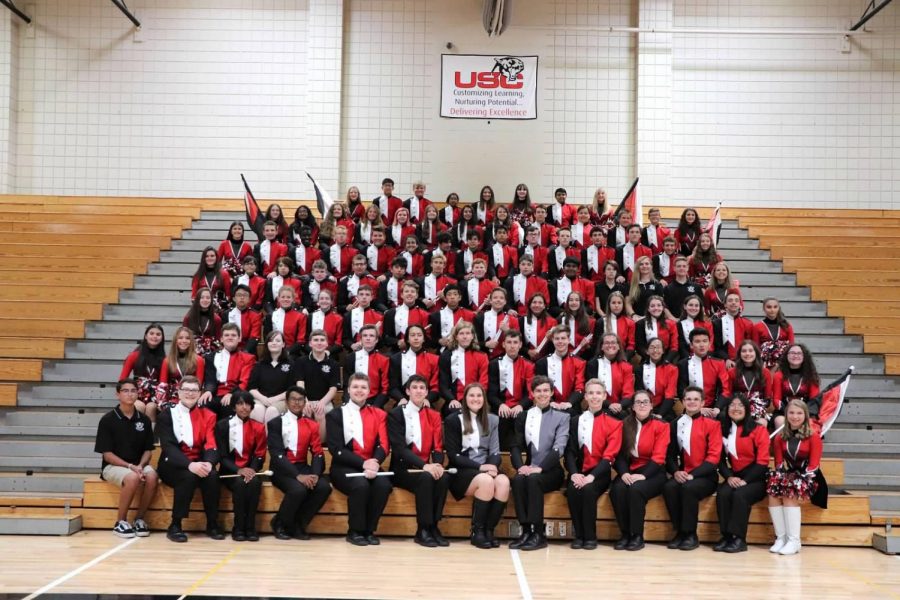 Andrew Drecnik, Staff Writer
December 2, 2019
On September 26th, the Upper St Clair high school marching band went on their annual homecoming tour. The homecoming tour is a tradition done by the marching band where they travel to the middle and elementary schools in the district. The tour is split up into two days, on one day half of the band goes to perform at the middle schools. On the other day, the other half goes to perform at the elementary schools.
The band is under the direction of Mr. Don Pickell. Before every performance Mr. Pickell described homecoming to the kids, "It's a time to celebrate being in Upper St Clair."
During the tour the band played through their normal routine including hits such as We Found Love, Respect, Hernando's Hideaway, and Saturday Night's Alright for Fighting. All of these songs are featured in the band's halftime show. The band has been practicing these songs since their band camp in August.
During all the performances at the elementary schools Mr. Pickell invited the students in band to stand with the marching band. The band talked to them about their experience in marching band and all the stuff they do.
Drum Major Maggie Halloren spoke about her favorite part of the tour is, "To see be kids get excited about wanting to do band in the future."
Band managers also attended the tour, the band managers are the ones who set up the equipment for band practice and football games. They don't play any instruments, but they are present for every band event. For the homecoming tour, the managers loaded up the trailer with the band's equipment.
There were various instruments on the trailer including snare, tenor, and bass drums. They also had instruments that didn't belong to the drumline like bell sets and sousaphones. The band managers unloaded all of the equipment three times that day for every elementary school we visited. Head Manager and senior Ethan Heckler shared his thoughts on the homecoming tour he said, "This is my favorite event, I've been doing it for four years."
At every school the band visited all the kids cheered and clapped for the band. The tour boosted the school spirit for all the elementary school students, it has never been a more exciting time for them to be in Upper St. Clair.