Conor Lamb Visits USCHS!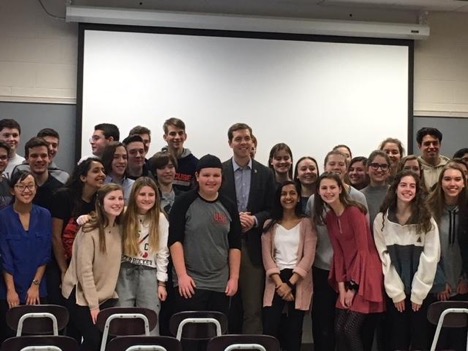 Hang on for a minute...we're trying to find some more stories you might like.
     On January 31, Conor Lamb visited Upper St. Clair high school to discuss his campaign and to answer questions from students. Conor Lamb is campaigning for a seat in the Congress as a Democratic against opposition Republican Rick Saccone. The public form took place in room 148/149 after school and gave students a chance to better understand Lamb's campaign and political platform.
The form started with Conor Lamb talking about his background. Lamb grew up in Mt. Lebanon and graduated law school at the University of Pennsylvania in 2009. After schooling, he joined the Marines and was commissioned as an officer until completing his active service in 2013. After that was he appointed an Assistant U.S. Attorney, where he was involved in the prosecution of Opioid-related deaths and other violent crimes.
After Lamb presented his background he went into his political platform. The first key aspect of his platform is his fight against the Opioid epidemic. Lamb presented a clear vision of how he thinks the Opioid epidemic should be treated, as a mental health problem instead of a criminal one. One statistic he brought up several times in his speech was that 3 out of 4 heroin addicts started their Opioid addiction with prescription pain medication, pushing the idea that addicts are not criminals. He supports an increase in rehabilitation centers to give addicts a chance to treat their addiction rather than the status quo, where treatment is given in the form of a prison sentence. The second part of Lamb's platform is in reaction to the current student loan system in America. Lamb talked about how difficult it can be to work with debt collectors and how a growing number of students are getting stuck in a cycle of debt. Lamb's solution is not as wide-ranging as Bernie Sanders "free college for all", but his reform is aimed to allow for refinancing of loans and partial debt forgiveness. The last aspect of his platform he talked about was the Affordable Care Act, also known as Obama care. lamb views President Obama's 2010 as an "important landmark act", but admits that it had flaws. In Congress, Lambs wants to reform the act rather the GOP's approach of "repeal and replace", an approach that later turned to simply repeal.
The majority of the time he spent that the high school was answering questions from students. Students were able to learn more about the specific beliefs of Conor Lamb and about the direction he would take if elected to Congress. Important and tough questions were brought up by students such as immigration requirements, pharmaceutical companies role in the Opioid crisis, and even his stance on Abortion. Conor Lamb eloquently answered each question going both into specific policy changes as well as big-picture ideas. On the issue of immigration, he made it clear that for any solution to be long lasting, that both sides in Congress will have to make serious compromises. Lamb believes that illegal immigrants should have a path to citizenship available, but that the system must ensure that these citizens are not criminals and can benefit America. Lamb spent years as a prosecutor with involvement in Opioid-related crimes, so he believes pharmaceutical companies hold a responsibility in the Opioid epidemic for marketing pain medications as safe and non-addictive. On the topic of abortion, Lamb explained that he is Catholic and believes that life starts at conception, but that it is not the Government's role to enforce his religious beliefs so he is pro-choice.
The special election for our districts congressmen will be held on March 13, 2018. Conor Lambs public form was not only to inform students about his platform but as a reminder to Seniors over the age of 18 the register to vote in this very important election.