An Open Letter to Seniors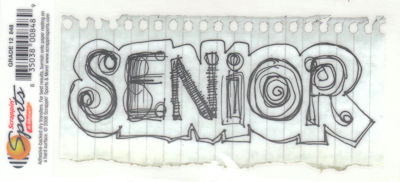 Hang on for a minute...we're trying to find some more stories you might like.
Dear Upcoming Senior,
First of all, I want to say congratulations. You have made it to senior year. Twelve years of waking up early (too early), running to the bus stop (because when did you ever get there on time), and the countless days spent doing homework (well, for some of you), are coming to an end. While you may be sitting there thinking, "I can't wait for school to be over, and for college to start," I'm here to tell you to stop. Senior year is not about moving on to the next chapter in your life, it's about enjoying your time here at Upper St. Clair while you can.
I understand right now you may not think this year will fly by, but it will definitely go faster than you think. Soon you will be posting on Instagram your last goodbyes as all your friends scatter across the country. Use your time here wisely. Don't get caught up in being stressed over the little things, and try to focus on the bigger picture. Do what makes you the happiest. The largest part about using your time wisely? Get your college applications done early. You don't want to be bogged down in December finishing your essays (trust me I was there). Focus on doing your best in everything outside the classroom: on the field, at the lanes (S/O Bowling Club), or on the stage, putting your best into the things you are passionate about will make your senior year meaningful.
High School is extremely cliquey, but if you to step outside of your friend group, you will be rewarded in the highest manner. The thing most ignorant people fail to realize is that amazing people are everywhere in this high school. Some of my most meaningful relationships were formed senior year because I decided to give people (most of whom I did not think very highly of) a chance. If you step outside of your comfort zone now, making friends in college will be a lot easier. I challenge you to meet someone new, and hey, they could turn out to be one of the best people you have ever met.
While beef is one of Upper St. Clair's largest exports, you need to realize senior year should not be about holding grudges, but squashing past (and usually useless) beef. Why would you want to have people's last memory of you being that person who decided to be a jerk to others on social media? Or why would you want to hear someone's name at graduation and just think about the time they said something rude to you in the halls? It's honestly a waste of time. You're a senior, which also means you are an adult. Loving others will make you a whole lot happier in the long run than bashing each other.
Senior year should be one of the best times of your life. Don't let others ruin it for you, and take advantage of every new opportunity that arises. As the hit band Smash Mouth once said, "we could all use a little change", so utilize your last year in high school to switch it up and have fun. However, when you do move on, don't forget to thank those who worked so hard to get you there. Best of luck, team!
Once a Panther, Always a Panther,
A Freshman (In College)