AP Physics boat races conclude year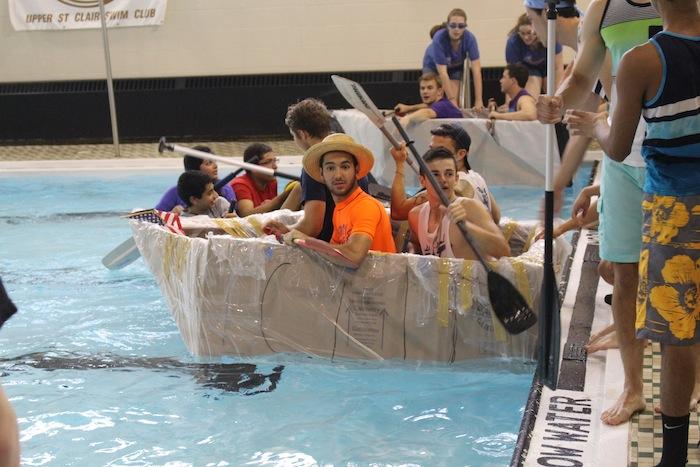 If you were in high school physics again, would you be able to create a boat using cardboard, glue, plastic, and duct tape? The Upper St. Clair AP and IB Physics students can now say that they are definitely capable.
Every year, the AP physics classes, known as some of the hardest classes at Upper St. Clair, have boat races in the school's swimming pool. The physics students are required to make cardboard boats that can float and hold 2-4 students. Participants have to get creative with the materials that they use and how it all comes together.
Current stellar student Steven Wagner talked about the kind of time that goes into the making of the boats. "Two, eight-hour days," says Steven. Often times, groups take more time than that, in conjunction with spending a lot of money in order to get the best cardboard or specialty adhesives.
Steven had some advice for future Physics students: "Row the boat fast." Strategy even plays into the races. If you have two people as opposed to four, you could get double sided paddles to attempt to go faster. "Anything for the win," Steven said.
But, these races do not come without their dangers. Oh no. Junior Andrew Berlin shared some insight on this factor of the races: "I sliced part of my hand while cutting cardboard with an Xacto knife." This goes to show that Physics should be taken seriously.
Then, students race boats in the pool when they would usually have class. Not only is this fun, but it is for a grade. The pool gets filled with students watching and cheering on their friends.
"It's just an all around good time," says senior participant JP Schrott.