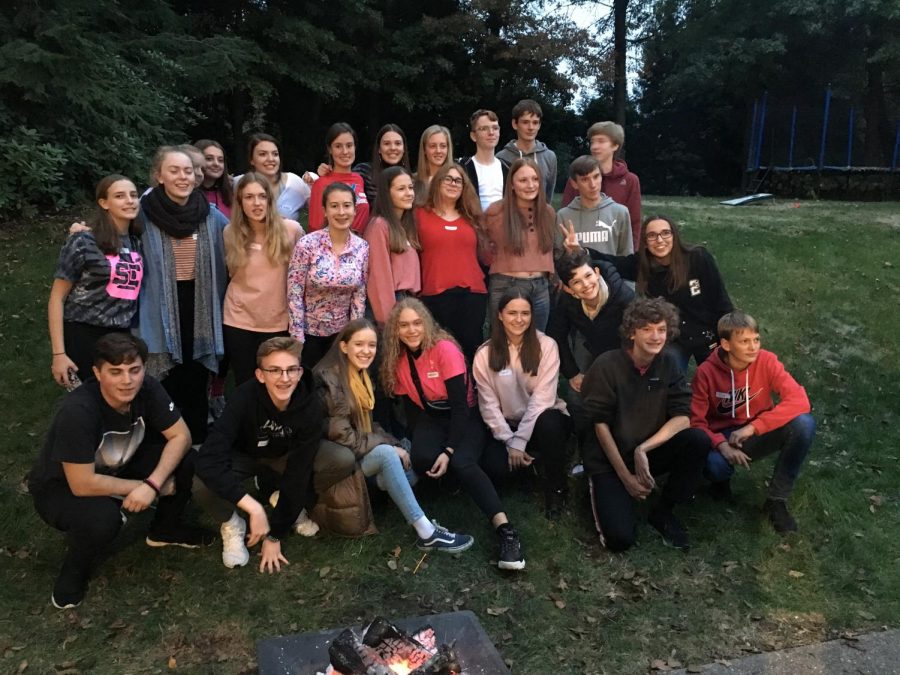 From the end of October through early November, a number of students at Upper St. Clair High School hosted exchange students from Leverkusen, Germany. In addition to attending school with their American host students, the exchange students also went to high school football games, attended "Fright Night" at Kennywood, spent time in various malls in the Pittsburgh area, and even went bowling. The exchange students as well as Upper St. Clair students also participated in a trip to Washington D.C., which included visits to the White House, the Lincoln Memorial, and a number of museums on the Mall. 
Paige Copenhaver, a sophomore who hosted a student during the exchange, recounted her incredibly positive experience: "It was a really great time! When we started, in the first couple weeks, I really didn't know anyone, even my own partner Hannah, but then by the end of the two weeks, I just felt like I had an extra twenty best friends. It was such a good time for me to get to know their culture. There were some definite culture shocks that we sort of got over really quickly, but for the most part, it was just, like, the best two weeks of my life." 
Because of the time period during which the exchange students were staying in Pittsburgh, a number of host students took their exchange students trick-or-treating on Halloween. Most of the German students expressed rather negative views of the American tradition, mainly because of the extreme cold that was present on the night of Halloween. However, the significant consumption of candy was not looked down upon by the exchange students, much to the amusement of the Upper St Clair students. Host students also took their German exchange partners on small trips outside of Pittsburgh, including trips to areas such as New York and Canada. The Upper St. Clair host students still correspond with their German exchange partners regularly, and host students will be traveling to Germany over the summer to spend time with their German counterparts. 
Evan Barker, another Upper St. Clair student who hosted a German student, also shared his pleasure in being able to partake in the experience: "It was really fun. Nina [Evan's exchange student] really fit in easily, and I'm glad that she could speak English really well because our family talks really fast and a lot. We got along really well, and it was really fun. My family really liked her." Evan also shared that many people did not believe him when he told them Nina was a german exchange student, as she spoke English incredibly well. The exchange students undoubtedly adapted quickly to life in the United States and were able to participate actively in events in and outside of the high school.
The German Exchange program not only allowed Upper St. Clair students to gain a more in-depth understanding of German culture, but it also allowed them to develop meaningful international connections. The German exchange students grew to know their host student's family, friends, and teachers, and were, of course, able to gain insight into the lives of American high school students. The Upper St. Clair students have expressed their excitement in being able to travel to Germany over the summer, where they will not only venture to different parts of Germany, but potentially travel to neighboring countries as well. A number of other exchanges, such as programs with schools in France and Spain, will be occurring at Upper St. Clair High School in the coming years, and based on the success of the German exchange program, it is clear that these partnerships are both enriching and enlightening as well.