Make-A-Wish Holds Annual Holiday Hoops Tournament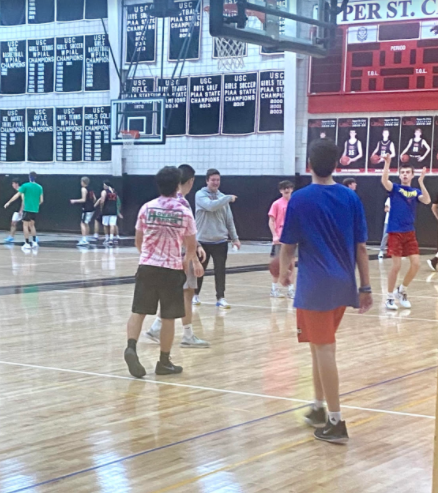 Julia Roeschenthale, Staff Writer
February 12, 2020
On Friday, December 22nd, the Make-A-Wish club hosted "Holiday Hoops", an annual basketball tournament dedicated to raising money for the Make-A-Wish foundation. Students as well as staff members participated in the tournament, and the grand total of funds raised by the end of the event was $2,992.00. The sponsors and members of the Make-A-Wish club were extremely pleased with this result, as they had raised more than half of the cost needed to "grant a wish." 
Russell Hoburg, a Chemistry teacher at Upper St. Clair High School, participated in the tournament and gave the event a very positive review: "I like the basketball tournament a lot because, as someone who is not super proficient at basketball, it [the tournament] is not taken super seriously, and so people can just have fun with it." Hoburg also mentioned his appreciation of the charitable aspect of the tournament, specifically in regard to the fact that it is inspiring donations to a great cause while also allowing students and staff to take a break from their schedules to enjoy themselves. 
Vidhur Senthil, a sophomore who also took part in the Holiday Hoops tournament, felt similarly positive sentiments towards the event: " I thought the tournament was a really good idea, because the more money the school raises, the more people we can help." Vidhur also expressed his pleasure in being able to play basketball with his peers in a low-pressure environment, which was a common sentiment across the board coming from tournament participants. 
The teams playing within the tournament were separated into three sections: boys, girls, and co-ed. One team was designated a winner in each category.  The winning team in the boy's section was "Team Derby Squad," with members Rae Burton, Tyler Berger, Herb Gordon, Brandon Shearer, and Jake Casey. The winning team in the girl's section was the "Big Baller Brand," with members Jill Rocco, Emily Rocco, Kate Robbins, and Molly James. Finally, the winning co-ed team was "Pneumonia," with members Brady Erdos, Heath Erdos, Mark Krolczyk, and Lauren Caslin. 
The Holiday Hoops tournament was, without a question, a success. Students wore creative costumes, established inventive team names, and bonded with their fellow peers as well as teachers throughout the event. Because a significant number of students and staff members participated, the Make-A-Wish club raised more than half of the funds needed to "grant a wish." The Make-A-Wish club will undoubtedly continue to host the tournament each year before holiday break, and they will be organizing events later in the year as well. By creating an experience that is not only enjoyable, but successful from a fundraising standpoint as well, the Make-A-Wish club truly demonstrates that their mission is one that is a worthwhile pursuit for students and staff members at Upper St. Clair High School.